Failure sign detection based on running data
Detects differences between current operational data and past nominal operation data to detect system failure signs in advance. As a result, system availability is improved and losses of opportunity reduced. 
Energy
Provider

Toshiba Energy Systems & Solutions Corporation

Updated

October 27, 2020

Languages

English, Japanese
Overview
Problem Identification
Emergency shutdowns due to failures have a tremendous effect on the operations of a power plant, not only losing power generation, but also require emergency repair. Power plant operators following the development and adoption of IoT technologies on a global scale have become increasingly interested in leveraging these technologies to reduce down time in their operating. However, if they usually manage to digitalized and gather a variety of data, its exploitation in order to improve efficiency of power plant operation is still a challenge.
About the Service
By building a model from the correlations between past data collected during nominal operations and comparing it with present data in real time, we have achieved that detecting differences with past behavior and predicting failures before they happen.
This service is part of our Electric Power Business Platform. It can be freely combined with the other services on the platform.
Value
Customer Benefit
Accurate prediction of when failures will happen allows planning for equipment down time and inspection, improving availability rates and reducing loss of opportunity.
Why Toshiba
Our experience as a plant manufacture allows us to build accurate models with the appropriate assets
Real time visualization of the actual data and the values predicted by the model
If necessary, clients can update the model on their own
Details
Screen Samples
Comparison of actual measures with predicted values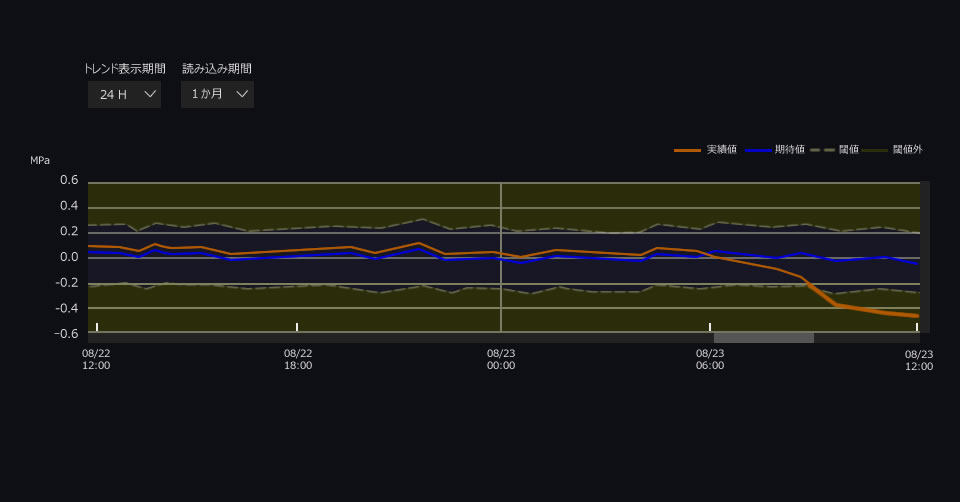 Contact
Please refer to the Toshiba Energy Systems & Solutions Corporation contact page.
Please note that the privacy policy and the terms and condition of the linked site is determined by the company which provides the site.