Real-time plant efficiency monitoring
Improves performance by detecting differences between a thermal efficiency forecast model and operational data.
Energy
Provider

Toshiba Energy Systems & Solutions Corporation

Updated

October 27, 2020

Languages

English, Japanese
Overview
Problem Identification
The evaluation of a power plant's performances in real time is made difficult caused by the multiplicity of factors and elements having an effect on the plant and its equipment. Yet, monitoring the plant's thermal efficiency is a crucial factor for profitable operations. It is also difficult to decide if an observed decrease in efficiency is due to the natural wear of running equipment or some incident that requires a timely response.
About the Service
Building a model of the plant's thermal efficiency allows forceasting the plant's performance as it should be in real time under optimal circumstances. By comparing the forecast with actual data with the appropriate granularity, from plant level to each equipment level, any difference between the model and the data can be detected. By analysing the performances in real time, efficiency improvement and failure prediction are made possible.
This service is part of our Electric Power Business Platform. It can be freely combined with the other services on the platform.
Value
Customer Benefit
Based on the comparison of real time data with accurate models, prediction detection of performance erosion and the forecasting of equipment failures before the failure occur allows for improved efficiency and availability rates.
Why Toshiba
Our experience as a plant manufacture allows us to build accurate thermal efficiency models
Human machine interface suitable for evaluation
Customers can modify the model themselves if necessary (for exemple simulating a machine replacement)
Details
Screen Samples
Thermal efficiency model and actual data comparison.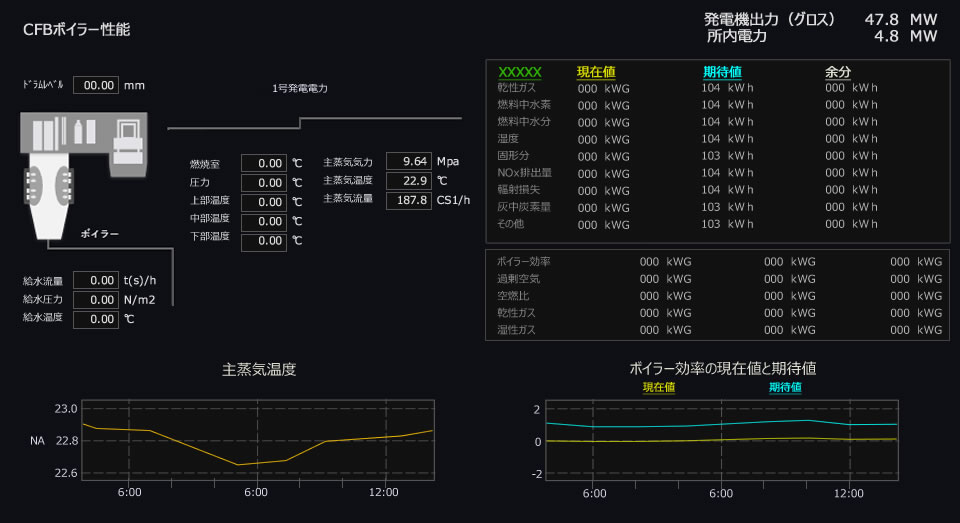 Contact
Please refer to the Toshiba Energy Systems & Solutions Corporation contact page.
Please note that the privacy policy and the terms and condition of the linked site is determined by the company which provides the site.