Dashboard for substations
Operation status visualization ― Dashboard visualizes the operational status of substation system such as primary equipment, protection and control devices, moreover our digital technologies support its operation and maintenance, it enables to enhances the asset management.
Energy
Provider

Toshiba Energy Systems & Solutions Corporation

Updated

October 27, 2020

Languages

English, Japanese
Overview
Problem Identification
Usually transmission and distribution operators are in charge of several power grid facilities. In order to ensure their stable operation, it is necessary to monitor simultaneously a variety of data like their operating status, blueprints, their facility log or list of spare parts. The difficulty of surveying such a large amount of data poses a risk of increase in operation and maintenance cost.
It also happen that the retirement of senior engineers result in the loss of know-how about operations and maintenance at the substation sites. Furthermore, following the evolution and penetration of IoT technologies on a global scale, transmission and distribution operators have become increasingly interested in leveraging those IoT technologies and the on-site data gathered through digital transformation (DX) in order to improve operational efficiency.
About the Service
By connecting a variety of digitalized data from numerous substation facilities (operational data, incident analysis flow, blueprints, facility logs, spare parts list), we make it possible to grasp at a glance the status of a substation. It is also possible, without the use of programming skills, to define their own company's workflow and track incidents through the data.
This service is part of our Electric Power Business Platform (UI/UX layer). It can be freely combined with the other services on the platform.
Value
Customer Benefit
System failure can be detected by the dashboard, along with the proper work flow and trouble shooting method to solve the problem. By following the prescribed workflow, issues can be solved quickly and precisely, limiting losses to a minimum.
Why Toshiba
Our microservice architecture enables gathering the necessary data processing and services to be combined according to the customer needs.
Our services can be deployed either on premise or on the cloud, or in hybrid configuration.
Our decntralized database architecture allows for a flexible combination of data flows and services.
By adding semantic information to the data, our information model based on our long experience and vast engineering expertise in the field promotes reusing the data.
Details
Screen Samples
Observing the dashboard, the links between pieces of information can be followed and pertinent knowledge grasped efficiently.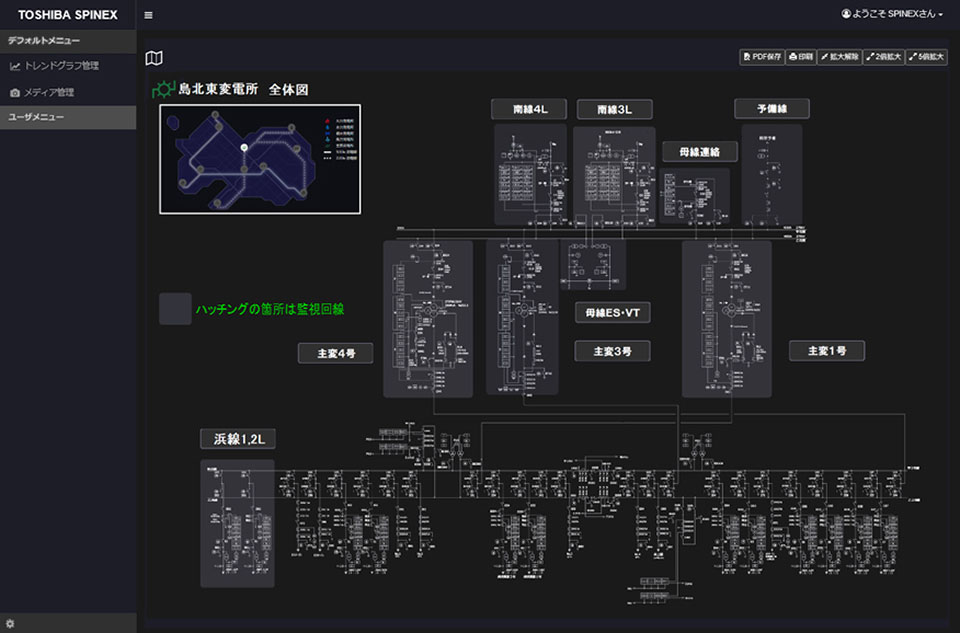 Contact
Please refer to the Toshiba Energy Systems & Solutions Corporation contact page.
Please note that the privacy policy and the terms and condition of the linked site is determined by the company which provides the site.