RemotRadar™ Cloud
Toshiba Monitoring System (TMS) is a cloud-based remote monitoring service that allows experts to monitor your Toshiba uninterruptible power systems (UPS) and Energy Storage Systems (ESS).
Infrastructure
Provider

Toshiba International Corporation

Updated

October 27, 2020

Languages

English
This service has a limited geographic coverage.
For more information, please contact us via Contact below.
Overview
Problem Identification
UPS (uninterruptible power system) with its ESS (energy storage system) is a backup power source in the event of power loss and provides a grace time to respond to a sudden loss of power. In anticipation of that grace time, a power loss response plan will be in place to minimize the loss of business opportunities.
However, if that backup power supply doesn't work in the event of a loss of power, the loss of power response plan becomes useless. This causes equipment that needs the power to go down, resulting in business losses or data corruption. Therefore, it is necessary to keep the UPS & ESS in a healthy condition.
As businesses expand, so does the UPS & ESS equipment used increases to continue business flow. Also, this comes with placing equipment located in a variety of locations to reach customers efficiently. Thus this complicates managing any monitoring system. Using Toshiba Monitoring System eliminates having to manage any monitoring system since it runs in the cloud. This allows customers to monitor UPS & ESS remotely and centralize all UPS & ESS in one system.
Toshiba offers human expertise to resolve any UPS & ESS problem on top of the remote monitoring service in case of an event. This helps Building Operations Managers to focus on other more critical tasks.
Overview of Toshiba Monitoring System
Toshiba Monitoring System (TMS) is a cloud-based remote monitoring service that allows Toshiba's experts to monitor customers' uninterruptible power systems (UPS) and energy storage systems (ESS) twenty-four hours a day, seven days a week. TMS adds another monitoring layer on top of customers' existing monitoring solution. TMS uses RemotRadar™ Cloud, an IoT platform, as its underlying technology, which allows machine-to-human interaction, i.e., UPS-to-TMS interaction.
Combined with RemotEye™ 4 & RemotEye™ ESS, Toshiba's UPS & ESS IoT-Ready edge card provides a secure connection to RemotRadar™ Cloud via MQTT, a lightweight data transfer protocol. It also utilizes the latest one-way (ASSET-To-TMS) authentication and encryption for a secure connection and data encryption that is more secure than a VPN. This means that RemotRadar™ Cloud/TMS does not interrogate the UPS & ESS and does not go into your network.
Value
Customer Benefits & Why Toshiba
You would install a UPS with its ESS system to mitigate the risk of losing business opportunities due to power loss. If UPSs & ESSs are equipped with RemotEye™ 4 & RemotEye™ ESS, then Toshiba Monitoring System allows you to monitor the status of the UPSs & ESSs remotely.
In addition, if you use the PREMIUM plan (see below), you will be notified when your attention is required.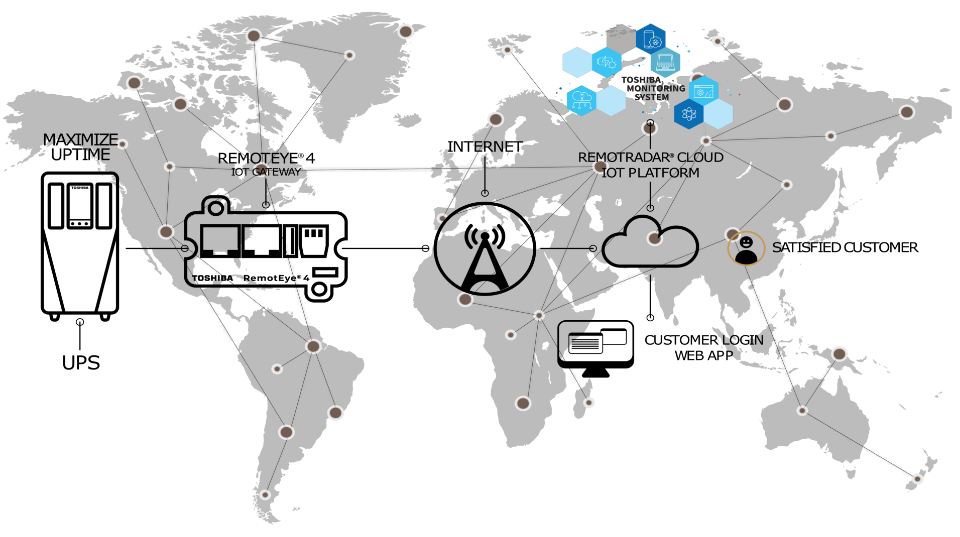 TMS provides UPS & ESS administrators and their business entities with the means to quickly resolve the risk of loss of business opportunities while providing peace of mind.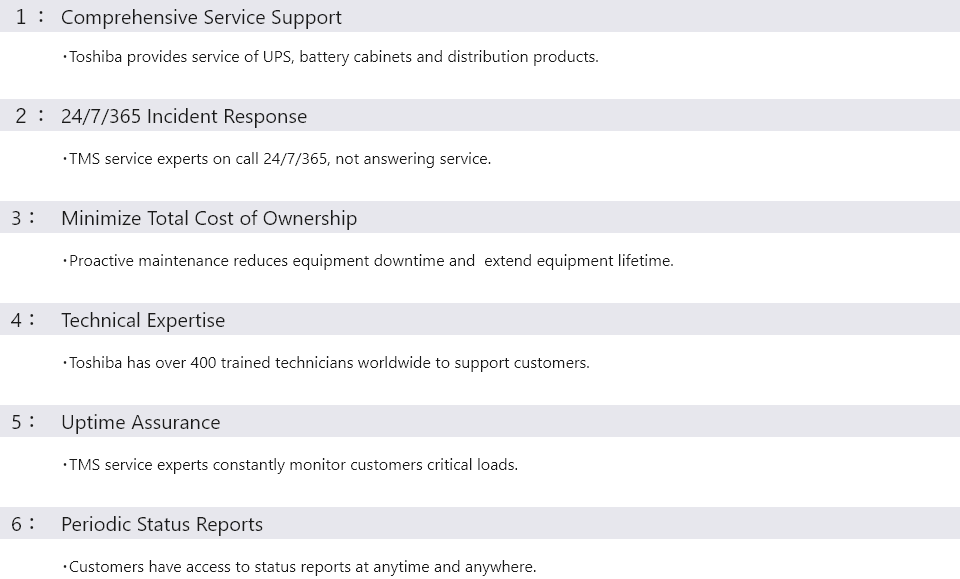 For more information, visit the official website of the Toshiba Monitoring System.
Service Menu
The unit price depends on the service plan selected. We are offering three types of plans: ESSENTIAL, PLUS, and PREMIUM.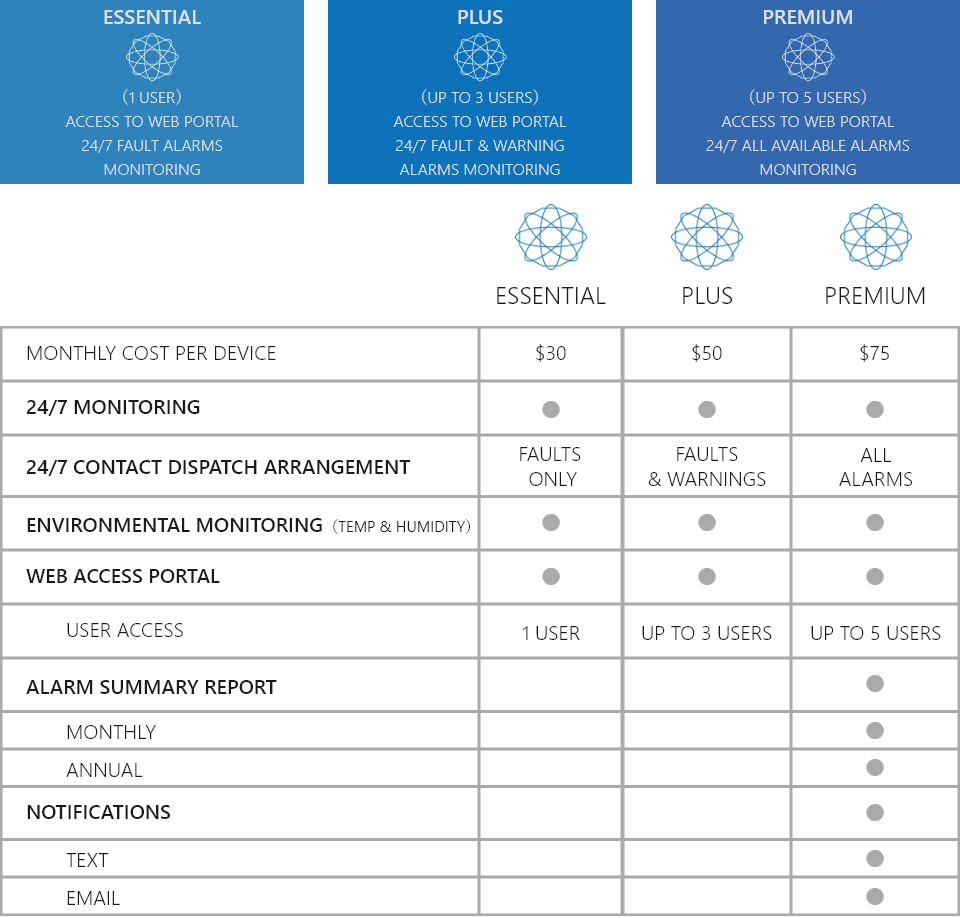 Use Cases
Helping building operations managers
All industries that operate in a building to help facilitate their business flow rely on power equipment to keep business running. This is usually handled by building operations managers (BOMs) to keep that equipment running in any case of power events. RemotRadar™ Cloud aid BOMs in keeping an eye on their equipment to avoid downtime, leading to better business operations.
Adding monitoring layer to existing monitoring systems
Many businesses rely on their monitoring system to keep track of all their equipment. This helps to reduce downtime and increase business continuity. Combined with RemotRadar™ Cloud, it adds another monitoring layer where Toshiba experts will monitor power assets to maximize uptime.
Helping businesses as they expand
As businesses expand, also power requirements expand. This means hardware upgrades and service maintenance to keep the business running. RemotRadar™ Cloud allows Toshiba experts to analyze monitored equipment and provide recommendations for service maintenance and upgrades as needed.
Existing Customers
The followings are examples of existing customer's industry areas:

Details
Try the Demo!
You can experience the production service running in the production environment by the use of a demo account. Hit the button "Try demo" at the top of this page.
Screen and Report Images
Dashboard with map view of all the connected devices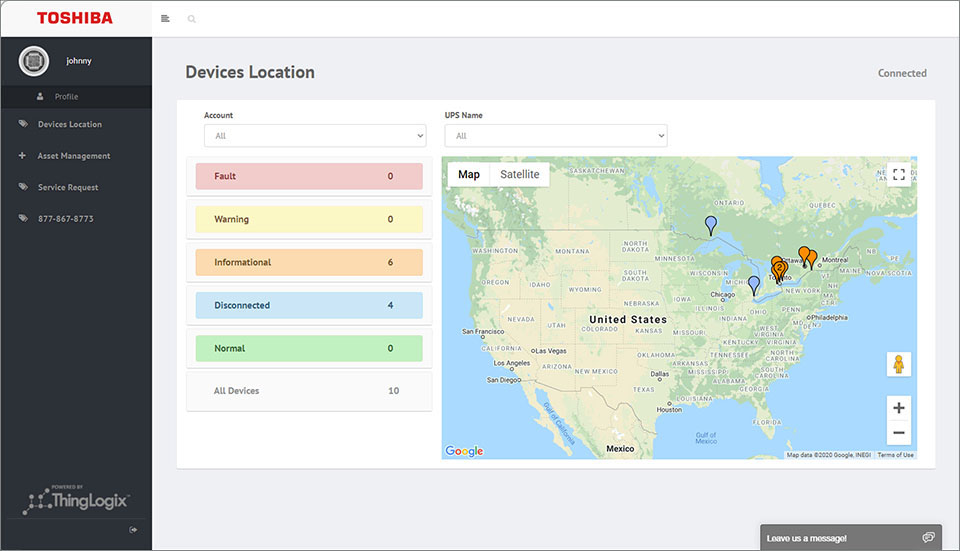 Device List View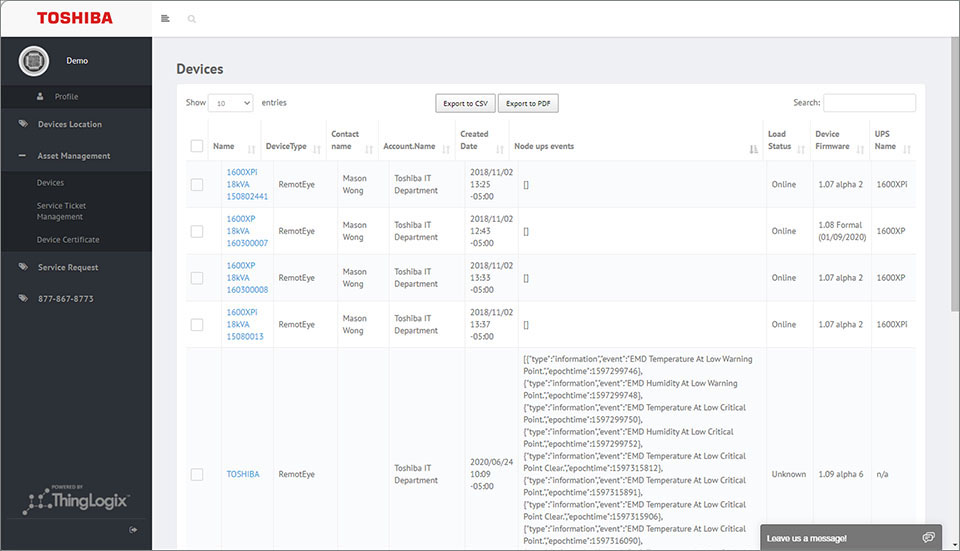 Service Tickets View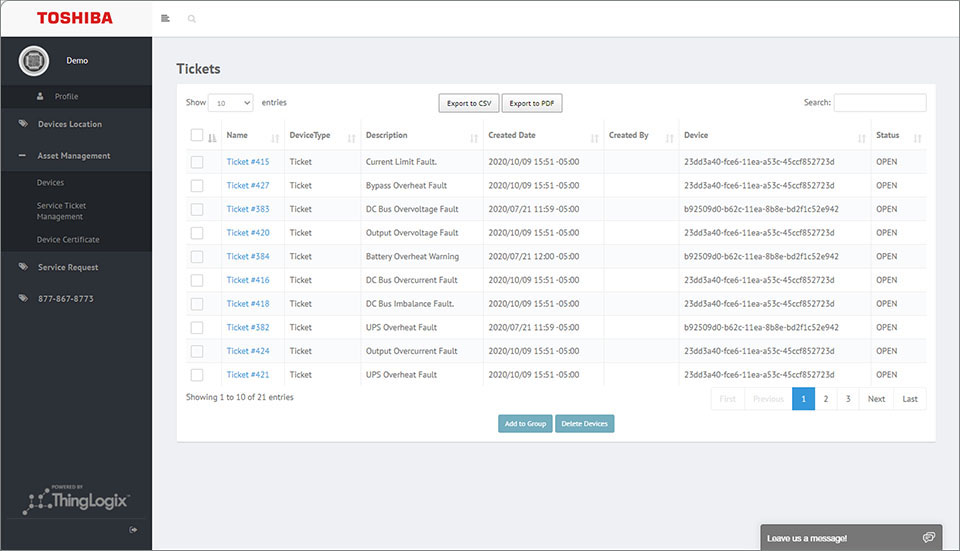 Email Notification
Report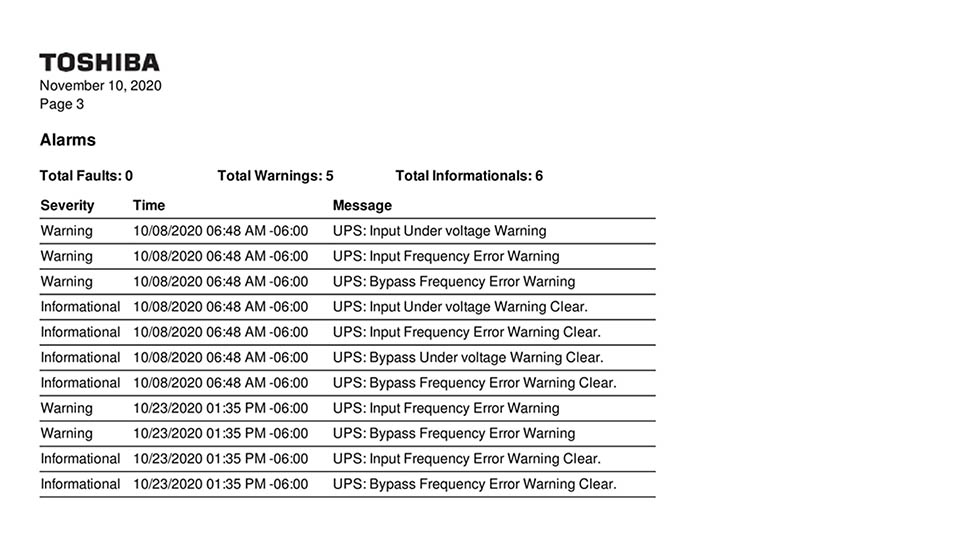 Message Notification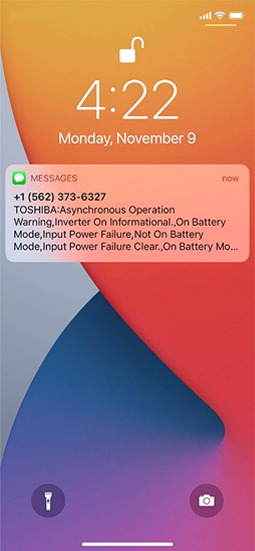 Contact
For more information, please contact us at Toshiba Monitoring System official site.
Please note that the privacy policy and the terms and condition of the linked site is determined by the company which provides the site.