Electric power demand forecast
VPP related forecasting/controlling service ― Precise electricity demand forecast using Toshiba's weather forecast technology and customer's data obtained in the past.
Energy
Provider

Toshiba Energy Systems & Solutions Corporation

Updated

October 27, 2020

Languages

English, Japanese
Overview
Problem Identification
Power system is based on just-in-time balancing of supply and demand. In this context, the accuracy of power demand forecasting is the key factor for enabling rational and fact based business decision and planning about power procurement and sales trading.
Service Overview
Power demand forecasting service based on Toshiba's original weather forecasting technology and AI technology.
This service is part of our Electric Power Business Platform. It can be freely combined with the other services on the platform.
Value
Customer Benefit
This highly accurate demand forecasting technology allows improving the effects of power utilities' demand imbalance control and power consumer's energy management.
Why Toshiba
Laureate of the "1st Power Demand Forecast Contest" sponsored by TokyoEPCO.
Applies our original technology, such as original weather prediction, sparse modeling, ensemble learning, etc, to enable highly accurate predictions.
Details
Screen Samples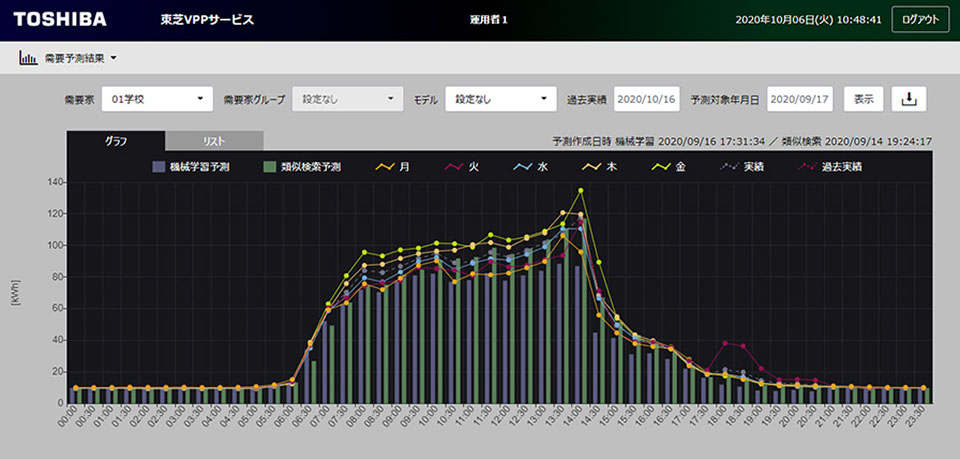 Contact
Please refer to the Toshiba Energy Systems & Solutions Corporation contact page.
Please note that the privacy policy and the terms and condition of the linked site is determined by the company which provides the site.