Asset IoT Cloud Service
for Factories / Industrial Plants
Manufacturing
Provider

Toshiba Digital Solutions Corporation

Updated

October 27, 2020

Languages

English, Japanese
Overview
Challenge
Factories and industrial plants face troubles with the aging of equipments and, due to the aging of population, a problem of labor shortage in equipment operation and maintenance work.
Value
Improve the value of assets by digitalizing a wide variety of operation and maintenance information
This cloud service is designed for facility management in factories and power industrial plants, based on an asset integration data platform composed of the operation and maintenance knowledge the Toshiba Group has cultivated over many years.
By monitoring and utilizing the operation data of a series of facilities, it enhances the operators efficiency in their daily work and enables maintenance to catch signs of failures at an early stage.
It also improves energy efficiency by managing the planning of power usage and the power supply capacity in a well-balanced manner.
Details
Please visit our official page!
The information below are a digest from our official page. Detailed explainations can be found on the Asset IoT Cloud Service for Factories / Industrial Plants official page.
Screen samples
We provide a visualization screen intuitive and easy to use. It was designed following the UXD (User eXperience Design) method to achieve high operability.
A screen representing the prediction of power usage based on past actual power consumption and the supply capacity and long-term trends for the power consumption planning.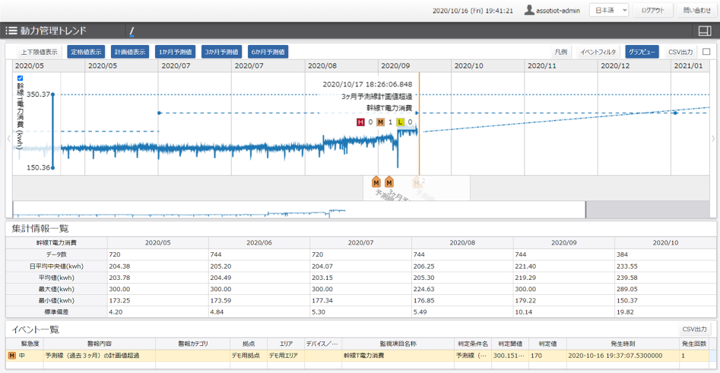 Other screen samples are available on the Asset IoT Cloud Service for Factories / Industrial Plants official page.
Contact
Please refer to the IoT service for the manufacturing industry contact page.
Please note that the privacy policy and the terms and condition of the linked site is determined by the company which provides the site.