Manufacturing IoT Cloud Service
A cloud service that enables practical utilization of IoT data with the digital twin technology and applications embodying manufacturing knowledge.
Manufacturing
Provider

Toshiba Digital Solutions Corporation

Updated

October 27, 2020

Languages

English, Japanese
Overview
Expectations for the optimum usage of IoT data in the manufacturing industry
In order to make the optimum use of information at the manufacturing site, it is necessary to visualize and analyze not only IoT data but also other production-related data (processing, quality, operation, etc.). At the site, this operation has to be realized quickly and easily.
Value
A cloud service enabling practical utilization of IoT data
Our manufacturing IoT cloud service is a service supporting the accumulation and utilization of manufacturing IoT data based on our expertise about manufacturing sites cultivated over many years in the Toshiba Group.
Our integrated data model, allows the rapid linkage of IoT data and business data generated at manufacturing sites. It enables the quick visualization of changes in production conditions and traceability, contributing to further improvements in productivity and quality.
The system scale can be changed flexibly according to your needs. Since you can start accumulating and utilizing IoT data from one single device or process, your initial investment can be kept to a minimum. Furthermore, the scope of application can be gradually expanded according to the scale of your business, up to the entire line and factory.
Details
Please visit our official page!
The information below are a digest from our official page. Detailed explainations can be found on the Manufacturing IoT Cloud Service official page.
Sample screen
We have prepared a standard screen to be used in the field. Pre-prepared screens based on an integrated data model allow for a quick and easy visualization at manufacturing sites.
A traceability screen to visualize product manufacturing history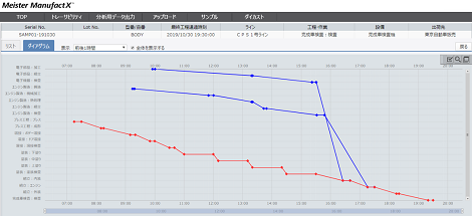 Other examples of useful screens can be found on the Manufacturing IoT Cloud Service official site.
Contact
Please refer to the IoT service for the manufacturing industry contact page.
Please note that the privacy policy and the terms and condition of the linked site is determined by the company which provides the site.