Dashboard for power plants
Operation status visualization ― Allows the visualization and cross linking of various digitized data (operation data, specifications, equipment ledger, spare parts list), including data integrated from multiple power plants. This makes it possible to grasp the status of a power plant on the dashboard at a glance, improving work efficiency.
Energy
Provider

Toshiba Energy Systems & Solutions Corporation

Updated

November 4, 2020

Languages

English, Japanese
Overview
Problem Identification
In general, power generation companies operate multiple power plants. In order to operate these easily, it is necessary to cross-check various pieces of information such as operation data, specifications, equipment, and spare parts, as well as to check each system, which poses a risk of increased operations and maintenance costs. With the evolution and penetration of IoT technology on a global scale, power generation companies are also very interested in reducing operation & maintenance cost by utilizing IoT technology, and have started digitizing a variety of data. However, it has not yet lead to the improvement of business efficiency.
About the Service
This service makes it possible to grasp at a glance the information operators in power plants are looking for by offering a visualization of your power plant, from the equipment status to the management level. It cross checks a variety of digitized data from multiple power generation facilities (operation data, specifications, equipment ledger, spare parts). In addition, thanks to the seamless linking of information, the time required for a series of maintnance operations can be reduced.
This service is part of our Electric Power Business Platform (UI/UX layer). It can be freely combined with the other services on the platform.
Value
Customer Benefit
The operators can detect system failure and/or system operational events on the dashboard and rapidly grasp the workflow to be followed in order to handle the problem, then work according to the indicated workflow. As a result, it becomes possible to quickly respond to failure situations day to day and minimize maintenance cost.
Why Toshiba
Our microservice architecture enables gathering the necessary data processing and services to be combined according to the customer needs.
Our services can be deployed either on premise or on the cloud, or in hybrid configuration.
Our decentralized database architecture allows for a flexible combination of data flows and services.
By adding semantic information to the data, our information model based on our long experience and vast engineering expertise in the field helps reusing the data.
Our locate and failure detection by utilizing picture information can improve data re-usability and work efficiency.
Details
Screen Images
Inter-related pieces of information can be grasped efficiently by tracing the semantic connections from the dashboard.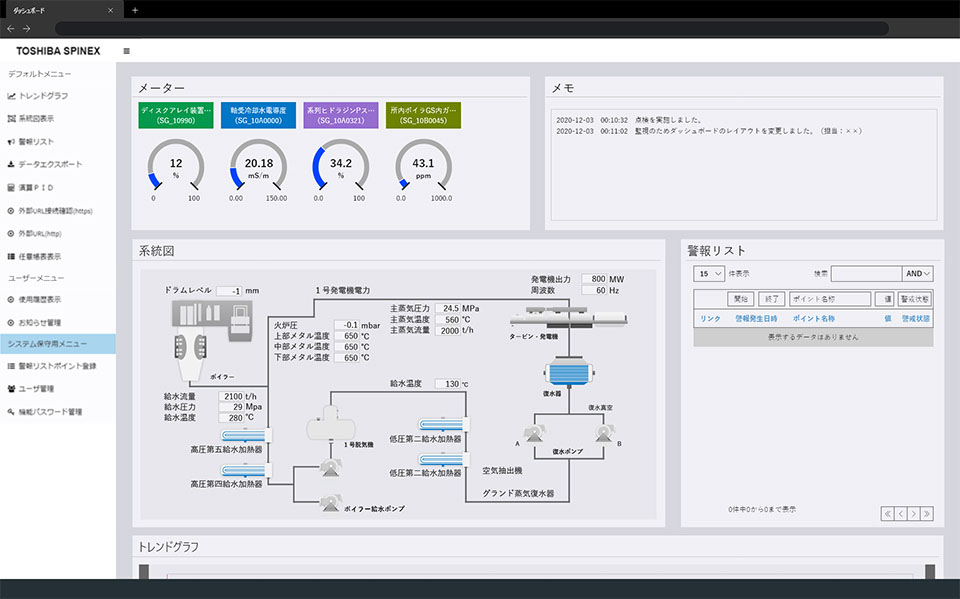 Contact
Please refer to the Toshiba Energy Systems & Solutions Corporation contact page.
Please note that the privacy policy and the terms and condition of the linked site is determined by the company which provides the site.